Why live here?
The Community – We Have Planned for Our Future
Gridley is a distinguished California community! The City is small enough to provide a quiet country life-style, and large enough to offer the amenities and conveniences of much larger cities. This quaint community with a population in excess of 7,000 residents is located in the heart of the beautiful Sacramento Valley at the foot of the world's smallest mountain range, the Sutter Buttes. Conveniently located within a few hours of the Bay Area and the Lake Tahoe/Reno area, area residents have the advantage of living in a community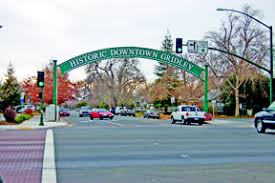 with clean air, good water and a rural lifestyle, while having quick access to metropolitan areas.
Gridley is a convenient one hour drive north of Sacramento, only 20 minutes north of the rapidly expanding urban area of Yuba City and just 27 miles south of Chico. Newcomers of all ages are lured to the Gridley area by the friendly small town atmosphere. It's as attractive to young couples raising a family as it is to retired senior residents. Quality of life is the primary goal of the community. The City and community support active recreation opportunities. The area is also home to some of the best hunting and fishing in the state.
Upon entering Gridley, one is struck by the quaintness and charm of the City. Gridley's compact footprint complements the rich and fertile agricultural lands that surround the City. One need only travel a few minutes in any direction before reaching wide open spaces of beautiful rolling rice fields and lush green orchards. The Sutter Buttes are clearly visible from many vantage points within and around the City. We are especially proud of our largely intact historic downtown and are taking progressive steps to revitalize and restore our commercial district.
Gridley continues to chart its own destiny by providing high quality water, wastewater, and electrical services to residents and businesses. We have also assured that Gridley can meet the needs of a growing community. Gridley offers quality lifestyle, a community with old fashioned friendliness and values, educational, cultural and recreational opportunities. All of these make Gridley an exceptional place to raise a family. The City has proactively invested in planning for the future growth of the City through our 2030 General Plan Update. This document demonstrates the City's commitment to agricultural preservation, community character, superior public service, recreation and walkability.
There are approximately 55 civic clubs and organizations, including fraternal, service, and an active arts groups. The Gridley Area Chamber of Commerce has been serving the community since 1946. Gridley has 18 churches with most major denominations as well as non-denominational being represented. There are a variety of sports and youth organizations available as well.
Housing for All
Gridley offers a variety of housing stock. From affordable starter homes to recently built upscale subdivision homes, to ranch style homes on large lots to Victorian homes on Gridley's Silk Stalking Row near the historic downtown, Gridley has something for everyone. There is also a good supply of rental housing available for those not quite ready for homeownership. Median rent prices are well below State averages. There are several affordable multi-family units in Gridley, including low income, single story, senior housing.
Health Care Right Here
Orchard Hospital proves the small community hospital is not a thing of the past. Orchard Hospital offers excellent medical and emergency services. The community owned and operated facility is a source of pride. Orchard Hospital (240 Spruce Street) has been serving the Gridley community since June 10, 1949. The 45 bed facility offers inpatient and outpatient services, radiology services, ambulance service, surgical unit, acute care, senior life solutions, skilled nursing facility and rehabilitation services. The hospital's phone number is (530) 846-9000. The Orchard Hospital website is OrchardHospital.com
The Medical Specialty Center (284 Spruce Street) is operated by Orchard Hospital. The phone number to the Medical Specialty Center (530) 846-9080.
Transportation Accessible for Everyone
Gridley is centrally located in California, which makes traveling in every direction very accessible.
The Sacramento International Airport provides national and international flights daily. The airport is less than an hour's drive from Gridley, located at 600 Airport Boulevard, north of Sacramento. Call (916) 874-0719 for more information.
The Gridley Golden Feather Flyer provides taxi service to Gridley area residents. Tickets are purchased at Gridley City Hall. The number for the Feather Flyer is (530) 370-1945.
Butte County Transit buses make stops in Gridley on a daily basis. The bus makes several stops throughout Butte County, including Oroville and Chico. Single destination tickets or 30 day passes can be purchased. Call (530) 342-0221 for a schedule.
Butte Community College runs the largest community college transit system in California. There are pick up locations Monday through Friday throughout Gridley.
Open Spaces and Parks – Gridley is Green
Manuel Vierra Park is located between the far south ends of Haskell and Washington Streets. The 13.5 acre Park offers huge areas of shaded grass under a grove of oak trees. Park facilities include a new Splash Pad, updated restrooms, playground equipment, tennis courts, barbecue facilities, benches and tables, and baseball and softball diamonds. Gridley Little League baseball games are played here. The Park also has a fenced area for children's birthday parties.
Nick Daddow Park is located at Hazel and Virginia Streets. The stunning landmark underwent a complete rehabilitation in 2017. The one acre Downtown Park has a gazebo, picnic tables shaded by huge cypress and palm trees, and barbecue facilities. Free concerts are often held at the gazebo. The Park is the central site of the Annual Red Suspenders Day event.
Gridley Rotary Park is located on Washington Street between Sycamore and Magnolia Streets. The one acre Park has shade trees, grass and picnic tables.
Skateboard Park is located at the intersection of Washington Street and Spruce Street. The large modern facility is well used and safely maintained.
Railroad Park is located along Washington Street at Hazel near the Downtown. The recently upgraded Park includes picnic benches, shade trees, and a barbeque area. Just across the street from Railroad Park to the north is Quota Park. This beautiful landscaped area was also completed due to the hard work and dedication of this local organization. The Park is a tranquil sitting area that includes a beautiful fountain, benches, and tables.
Boat Launch Park includes a new boat ramp and dock, restrooms, lighting, and a fish cleaning table. It's located 5 minutes east of Gridley on East Gridley Road.
Nearby Recreation - The Gridley area is a sportsman's haven. Excellent hunting, fishing and naturalist opportunities are available on private and public lands. The Gray Lodge Wildlife Waterfowl Management Area is located just 10 miles southwest of Gridley. Its 8,400 acres form some of the most intensively used and developed wetlands in the entire Pacific Flyway. Gridley is within minutes of the exceptional recreational facilities available at Lake Oroville. Lake Oroville and the Oroville Afterbay feed into the clear rolling waters of the Feather River, which provides some of the best salmon fishing in the state. The City maintains boat launching facilities on the Feather River just 10 minutes east of the City.
Education
Since the first school district was formed in 1873, Gridley has taken great pride in providing first-class educational opportunities for everyone. The community continually rallies around the needs of Gridley students, supporting fund raisers, special events and sports programs. If there is a need in Gridley's school system, the community always seems to find a way to meet it.
California State University Chico is located at 400 West First Street in the City of Chico. The campus is located approximately 30 miles north of Gridley. Call (530) 898-4636 for more information.
Butte Community College is located at 3536 Butte Campus Drive, off Highway 99, approximately 25 miles north of Gridley. The two year junior college offers general education courses, which allow students to transfer credits to a four year university as well as numerous two year certificate programs. Call (530) 895-2509 for more information.
McKinley Elementary School is located at 1045 Sycamore Street. The kindergarten through first grade school has a student enrollment of 291. The school mascot is the mallard duck. The school has 18 teachers. Call (530) 846-5686 for more information.
Wilson Elementary School is located at 409 Magnolia Street. The second through fifth grade school has a student enrollment of 578. The school mascot is the rams. The campus has a multipurpose room/cafeteria. The school has a staff of 32 teachers. Call (530) 846-3675 for more information.
Sycamore Middle School is located at 1125 Sycamore Street. The school mascot is the bullpups. There are 30 teachers and a full time counselor at the sixth through eighth grade school. Sycamore has a student enrollment of 498 students. The school features a band program, library, gym, computer lab, cafeteria, outdoor basketball courts and a large playing field. Intramural sports offered at the school are: boys flag football, track, boys and girls basketball, girls volleyball and boys and girls soccer. Call (530) 846-3636 for more information.
Gridley High School serves grades nine through twelve and has a student enrollment of 621. There are 35 teachers at the school. School facilities include a weight room, football field, tennis courts, track, soccer field, four baseball and softball fields. The school also rents Farmer's Hall (which doubles as the school's gym) and additional parking from the Butte County Fair. The school offers an outstanding band program. The Gridley High School band has been invited to play at Disneyland on several occasions. The school offers the following intramural sports programs: football, girls volleyball, boys and girls tennis, golf, boys and girls basketball, boys and girls soccer, baseball, softball, wrestling, and track. Call the school at (530) 846-4791 for more information.
Manzanita School is located at 627 East Evans Reimer Road. The kindergarten through eighth grade school has a student enrollment of 240. Call (530) 846-5594 for more information.
Community Buildings
The Gridley Community Center is a 12,480 square foot building located at the corner of Fairview Drive and Spruce Street on the grounds of Gridley High School. The building houses the Gridley Teen Center and several other community services. There are six rooms, including two bathrooms. There is also a 600 square foot conference room. The largest room is 8,000 square feet and is utilized for the teen center, the Gridley High School band and special events. The Gridley Community Center also boasts a full commercial kitchen. The facility is available for rent. Contact Gridley High School (530) 846-4791, ext. 221.
Veteran's Memorial Hall is a 10,000 square foot building featuring meeting rooms, a kitchen, dance floor and stage. Local veterans groups and the Gridley Rotary Club meet at the facility. The building is available for rent by calling Butte County General Services at (530) 538-6128.
Butte County Fairgrounds are located east of Highway 99 between Hazel Street and East Gridley Road. The Butte County Fairgrounds consist of 38 total acres. It is the home of the annual Butte County Fair held in August. The beautiful grounds are also utilized for special events throughout the year, including the annual Tri-County Dog Show, held in June. The grounds and facilities are also available for rent for weddings, family reunions and other special events. Call the fair office (530) 846-3626 or visit their web site at www.buttecountyfair.org for more information.