Electric Department

To report an electric outage or a broken city water line during normal working hours, please call our customer service phone at (530) 846-5695. If you are calling after normal working hours to report an electric outage or broken city water line, please call our outage hotline at (530) 846-3143. Crews are on standby to restore power or make repairs.
As one of the oldest California municipal power agencies, established in 1910, the City of Gridley Electric Utility oversees the delivery of wholesale power, maintains and operates the local electric distribution system, is involved in engineering and advance planning for improvements, replacement and expansion of distribution system, and maintenance and operation of the City's street lighting system.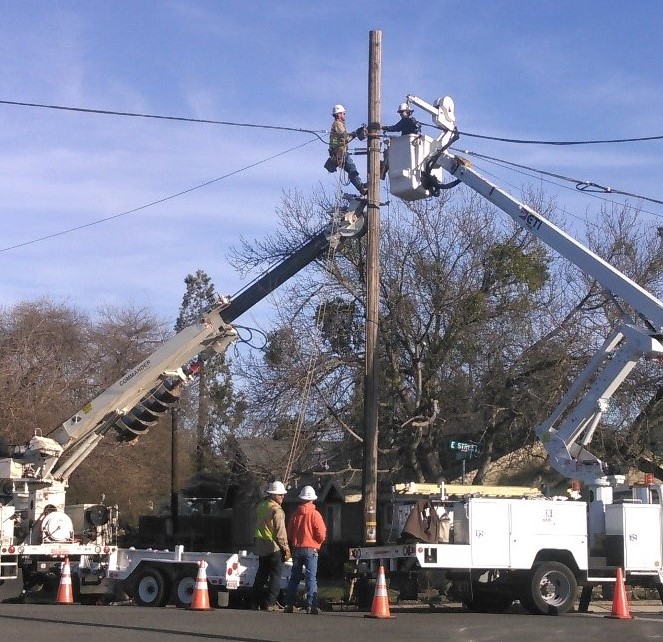 Distribution System
The Electric Utility Department is responsible for the operation and maintenance associated with the reliable distribution of electricity to residential and commercial customers from the City's interconnection with PG&E's 60 thousand volt transmission line at Gridley's Electric Substation located on Fairview Drive. Major staff responsibility and associated costs are also appropriated toward new construction, system expansion and replacement, which are augmented and funded through the City's Capital Budgets.
Solar Permits - The State of California allows electric utilities who've met a minimum threshold of solar production to implement a new solar buyback rate. Gridley's Electric Utility has exceeded the required threshold and is now offering to its residents the new Solar 2.0 Program. All customer-generators (hereinafter referred to as Customer) who apply for interconnection ON or AFTER January 22, 2020, will be enrolled in Gridley Electric Utility's Solar 2.0 Program. Current solar Customers and those who've applied prior to January 22, 2020, will remain on the Net Energy Metering (NEM) Program unless they choose to enroll in Gridley Solar 2.0. Please see additional details below.
Procurement of Wholesale Power - Serving the Electric Utility, the City Administrator is responsible for the purchase of power for the City. This includes overseeing the City's share of the Northern California Power Agency's (NCPA) generation projects and the Federal Western Area Power Administration's Central Valley Project allocation.
Gridley Electric Utility Power Content Label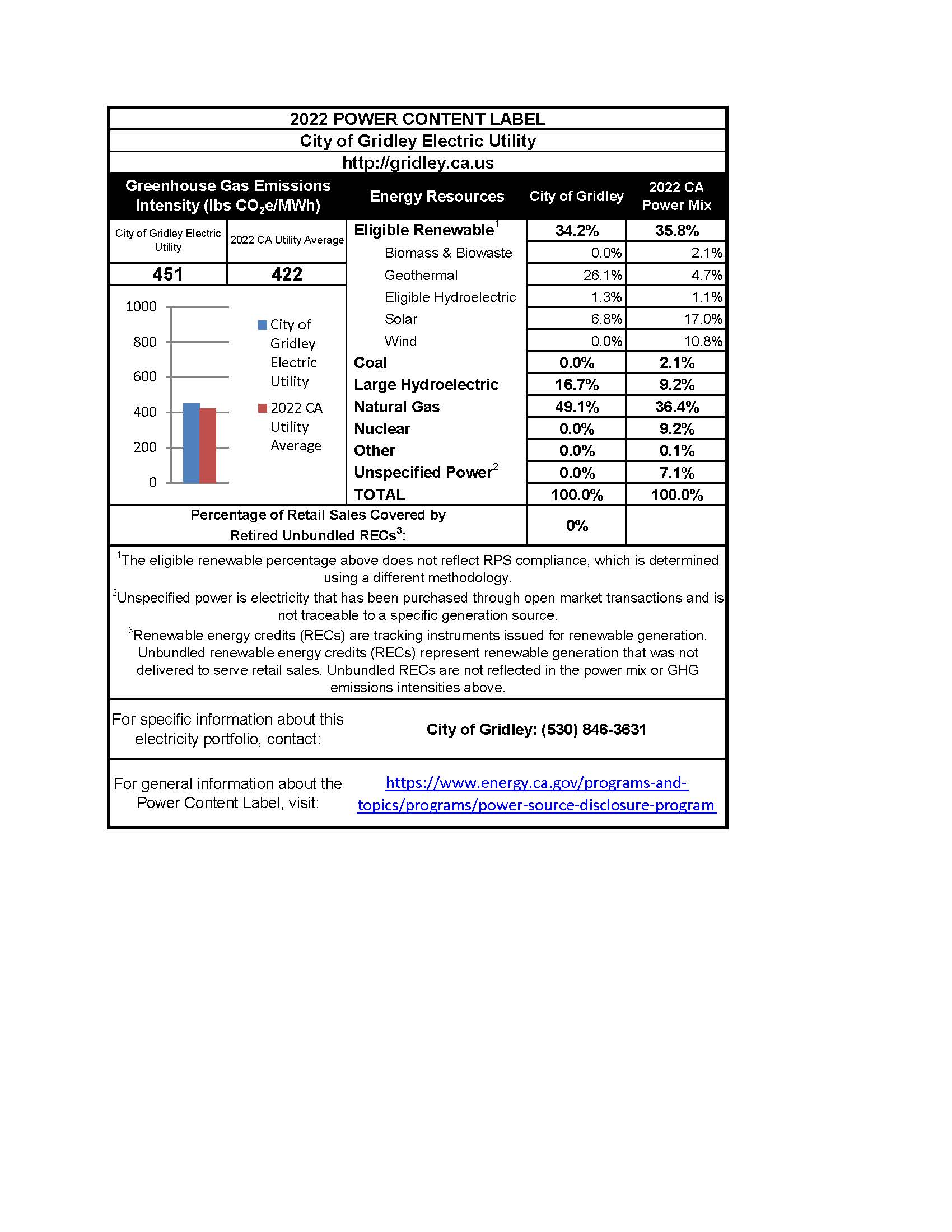 Helpful Links

Butte County Air Quality Management District http://www.bcaqmd.org/

Northern California Power Agency http://www.ncpa.com/

California ISO http://www.caiso.com/
Contact Information
Electric Utility Director Danny Howard
444 Fairview Drive
Gridley, CA 95948
(530) 846-5695
electric@gridley.ca.us