Who are we?
Welcome to Gridley, California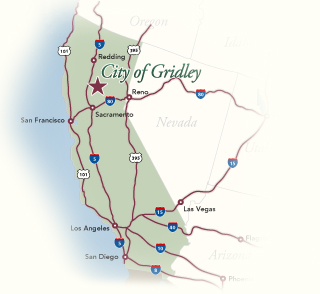 Gridley is growing and changing, becoming livelier, more active, and more festive than ever before. You can see it in the historic buildings being restored to their former glory. You can see it in the new storefronts blossoming throughout the area.
Our Region is a place of natural beauty with countless opportunities for recreation in both rural and urban environments. Our Region is committed to protecting and enhancing agriculture as the backbone of the local economy, and for the open-spaces that make Butte County a beautiful place to live and work.
Located 60 miles north of Sacramento, from the Sacramento River, its western boundary, to the Sierra Nevada Mountains, its eastern perimeter, Butte County's elevation spans from 90 to 7,800 feet above sea level making the County geographically diverse. The County encompasses 1,636 square miles of land with a population of 220,000 residents. Our Region is accessible by HWY 99 and HWY 70 with areas of the County just 20 minutes from I-5.
Our Region is proud to be the home of California State University, Chico (Chico State), Lake Oroville and the Sierra Nevada Brewery Co.
The City of Gridley and our regional partners have a culture of business innovation fostered by the entrepreneurial community and bolstered by Chico State and Butte Community College. Why do business in the Gridley area?
Ideal for small and medium-sized companies serving global markets
Easy market access due to central West Coast location
Available skilled labor
Innovative partnerships with higher education
Lower cost of doing business
High quality of life
Assistance in start-up, relocation and expansion