Mosquito Abatement Services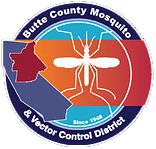 Please contact the Butte County Mosquito and Vector Control District with any mosquito issues. If you need to report un-maintained pools or ponds, or would like your property inspected for mosquitoes, please click here to utilize the online service request form or you can call the District office at 530-533-6038.
If leaving a telephone message, please provide the following: Name, address, closest cross street and daytime phone number, time of day you were bitten (morning, afternoon, evening). Please also indicate the location that you were bitten - inside or outside? You do not need to be home in order to have your property inspected or treated for mosquitoes.
Contact
Butte County Mosquito & Vector Control District
5117 Larkin Road Oroville, CA 95965
530-533-6038