Fire Department
The Gridley Fire Department protects Gridley community members, their lives, homes, property, and businesses. We protect Gridley from fire and other threats to life safety.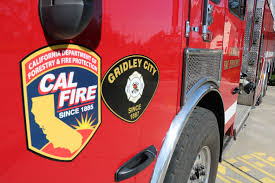 We envision a community free of threat from fire or risk to life safety. We value: compassion, loyalty, integrity, and Gridley, the community we protect.
The Fire Department provides fire, rescue, emergency medical, public service, and hazardous materials emergency response service for the City. This includes fire prevention, pre-fire planning, emergency prepardness, firefighting, fire investigation, and code enforcement. The Fire Department operates two components, a career staff funded jointly by the City and County, responsible for day-to-day operations and a Volunteer Company providing the necessary depth of personnel for most incidents.
Become a Volunteer Firefighter - Have you ever wanted to get involved and make a difference by helping your neighbors and friends? If so, consider becoming a Gridley Volunteer Firefighter!
The City of Gridley is a combination Fire Department with full-time CAL FIRE Firefighters and Gridley area citizen Volunteer Firefighters. Our Volunteers meet regularly for training. Training is done cooperatively with Butte County Fire and includes all basic firefighting skills: first aid, ladders, breathing apparatus use, hose streams, vehicle extrication, etc. This ongoing training is in addition to the initial basic operations training course. For more information about becoming a Gridley Volunteer Firefighter, go to www.joinbcfd.org and submit a Volunteer Firefighter Interest Form.
Contact Information
Ken Lowe
47 East Gridley Rd
Gridley, CA 95948
(530) 846-5711