Bus, Taxi, and Air Service
Gridley is centrally located in Northern California making travel in every direction very accessible.
International Travel
The Sacramento International Airport provides daily national and international flights. The airport is less than an hour's drive from Gridley, located at 600 Airport Boulevard, north of Sacramento. Call (916) 874-0719 or click http://www.sacramento.aero/smf/ to learn more.
Airport Pick Up – In addition to personal vehicles there are two primary options available from SMF to bring you to Gridley. SuperShuttle offers airport services from share ride vans to a private shuttle bus. You can request to be dropped off by a specific location in Gridley at no additional cost but you will need to plan ahead as reservations are required! Make your reservation with SuperShuttle through the following link https://www.supershuttle.com/
UBER and LYFT serve as ride-sharing alternative to traditional taxi cabs. Download your application and get your ride at https://www.uber.com or https://www.lyft.com
Regional Bus Service
Butte County has a regional public transit system called the B-line. The B-line travels locally in Gridley, Biggs, Chico, Oroville, and Paradise. The current route is pictured below. Call (530) 342-0221 for additional information or click here http://www.blinetransit.com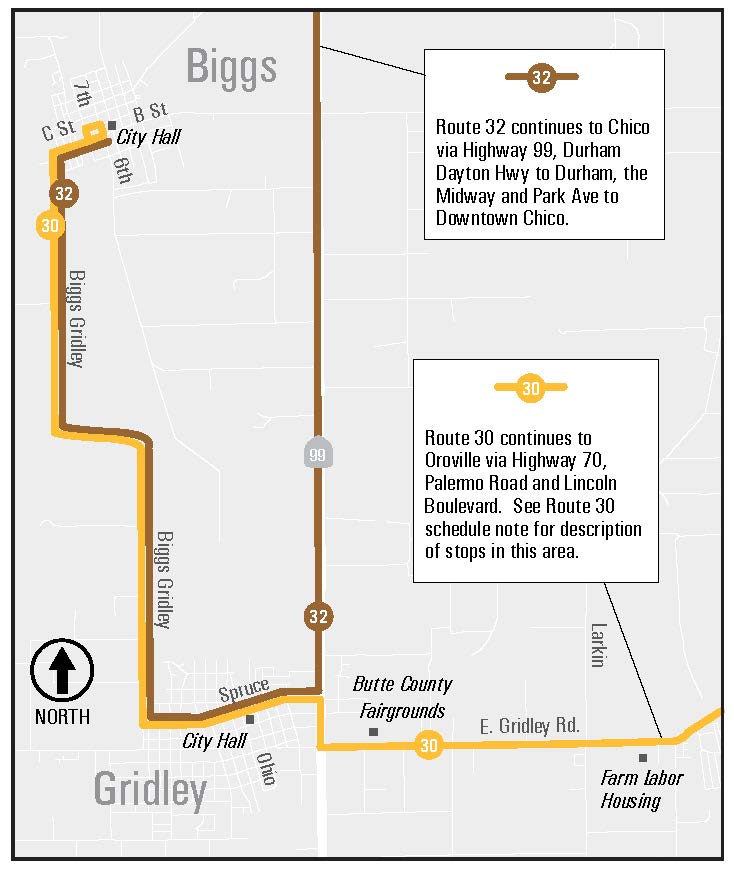 Butte College Campus Transportation
Gridley Dial-A-Ride
Boarding the Transit Vehicle - Assistance with boarding and disembarking the transit vehicle is the sole responsibility of the rider. However, the Flyer is equipped with a lift and the driver may only provide assistance in pushing a manual wheelchair and securing it on the lift. Please be advised that Feather Flyer Transit is a basic Dial-A-Ride service which provides curb-to-curb services and if you require further assistance, it is your responsibility to advise driver and make additional accommodations for you to ride with a personal care attendant.
Personal Care Attendant (PCA) - All ADA eligible riders may take one Personal Care Attendant (PCA) with them at no charge. Please advise the dispatcher when the trip is booked that you will be riding with a personal care attendant. A personal care attendant may be a family member or friend.
Boarding with a Mobility Device - Feather Flyer Transit services provide lifts that are accessible to persons with wheelchairs and other mobility devices. As a safety measure, we recommend that you make sure your mobility device is maintained according to the manufacturer's specifications and that your brakes are operable.
Federal law requires devices not to exceed 30 inches wide, 48 inches long and 600 lbs. in total weight (rider and mobility device). Please notify the driver upon scheduling so accommodations may be made prior to pick-up. Per Section 37.165c(3) of the Department of Transportation's ADA regulations, it is our policy that all wheelchairs and mobility devices are secured inside the vehicle, any rider who refuses to allow their device to be inspected or secured will be declined service.
Passenger and Driver Seatbelt Policy - All persons (passengers and driver) being transported in the Feather Flyer Transit vehicle are required to properly wear safety belts. The wearing of safety belts ensures a safer ride and minimizes the potential for injuries to both the passengers and drivers. These devices are to be worn by all riders including those in wheelchairs as well as those who use vehicle seats. If a passenger refuses to use a seatbelt, the driver will decline service to the rider. The transit service does not provide safety belts for children. Children 5 years of age or younger or children weighing less than 60 pounds must be secured in a car safety seat when traveling on board the Flyer or they will not be transported. You may be ticketed by local law enforcement if your child is not in a child safety seat. It is the responsibility of the parent or personal care attendant (PCA), not the driver to secure the safety seat and child.
Service Animals - You are welcome to travel with your service animal aboard the Flyer. However, please inform the driver upon scheduling your pickup that you will be traveling with a service animal on a leash.
Pets and other non-service animals - Pets and other non-service animals may be carried on the transit vehicles in a properly secured cage or carrier (this does not include pet strollers). The driver cannot assist in loading or unloading the cage or container. All animals being transported must not jeopardize the health or safety of other passengers or the driver.
Transporting Life Support Equipment - A rider may bring a respirator, portable oxygen, and/or other life support equipment onboard as long as it does not violate the law or rules relating to transportation of hazardous materials. In addition, all equipment must be small enough to fit into the transit vehicle safely and without obstructing the aisle and/or blocking the emergency exits.
Transporting Packages - The Rider or the Personal Care Attendant must be able to maintain control of packages while on the vehicle. When you go shopping, there is a bag limit. More than six (6) bags takes up space on the bus that other riders may need to use and can be a potential safety hazard. The only exception to this rule would be if the passenger pays for an additional ticket to allow for additional bags beyond the (6) bag limit. Bags of any kind must not block the aisle because it is a violation of both the federal and state law to block the aisles of a public transit bus. You may request the driver's assistance loading and unloading groceries, but bags must weigh less than 35 pounds (total combined weight). However, attendant-type services such as carrying personal baggage, or suitcases are not required of the driver.
IMPORTANT! You cannot transport hazardous materials such as weapons, fuel, corrosives, etc.
Lost & Found Policy - The Feather Flyer Transit service is not responsible for lost or damaged items.
Drivers are not permitted to: come looking for you; lose sight of their vehicle; knock on your door; lift or carry you; carry you or your wheelchair up or down steps; and/or bring your ticket order envelope to the City Hall offices.