Proposition 218: Notice for Proposed Water and Sewer Rates
Propostition 218: Notice for Proposed Water and Sewer Rates
Proposition 218 is an amendment to California's Constitution that requires government agencies and utilities to notify property owners of proposed changes to rates for services. A written notice must be sent to property owners 45 days prior to a scheduled public hearing regarding proposed changes. The City of Gridley mailed all our registered property owners a Proposition 218 Notice to advise a public meeting will be held on December 18th, 2023 regarding proposed water and sewer rates increase for calendar years beginning 2024 and 2025.
Our rates reflect the true cost of operating, maintaining, and upgrading the City of Gridley's water and sewer systems. To continue delivering the services that Gridley residents can depend on, the City of Gridley is proposing water and sewer rate increases, effective January 1, 2024. The proposed new two-year rates represent an average monthly bill increase of less than $4 a month for the average single-family residential household in Gridley.
Notice of Public Hearing on Proposed Water and Sewer Rates
At the December 18th, 2023 Gridley City Council meeting, the proposed water and sewer rate increases will be voted on by the City Council. The City of Gridley welcomes input from the community. Public comments can be made during this public hearing when the agenda item is discussed.
Customers also have the right to submit a written protest against the proposed water and sewer rates. The proposed rate increases will not take effect if the City of Gridley receives written protests from a majority of the affected property owners and customers.
Written protests must be mailed to the City of Gridley administrative assistant at the address below or hand delivered to the December 18th, 2023 City Council public hearing in order to be counted. Protests may not be delivered electronically or verbally.
Any written protest must: (1) state that the identified property owner or customer is in opposition to the proposed rates increase; (2) provide the location of the identified parcel (by assessor's parcel number, street address, or customer account); and (3) include the name and signature of the person submitting the protest. Only one protest may be registered per property.
Oral comments at the public hearing will not qualify as a formal protest unless accompanied by a written protest.
Mail Protests to:
City of Gridley
Attn: C Santana
685 Kentucky St,
Gridley, CA 95948
Under California Government Code section 53759, there is a 120-day statute of limitations for challenging any new, increased, or extended fee or charge. This statute of limitations applies to the water and sewer service rates and charges proposed in this notice. It also applies to future changes to water and sewer rates and charges.
---
Please see the proposed rate schedule below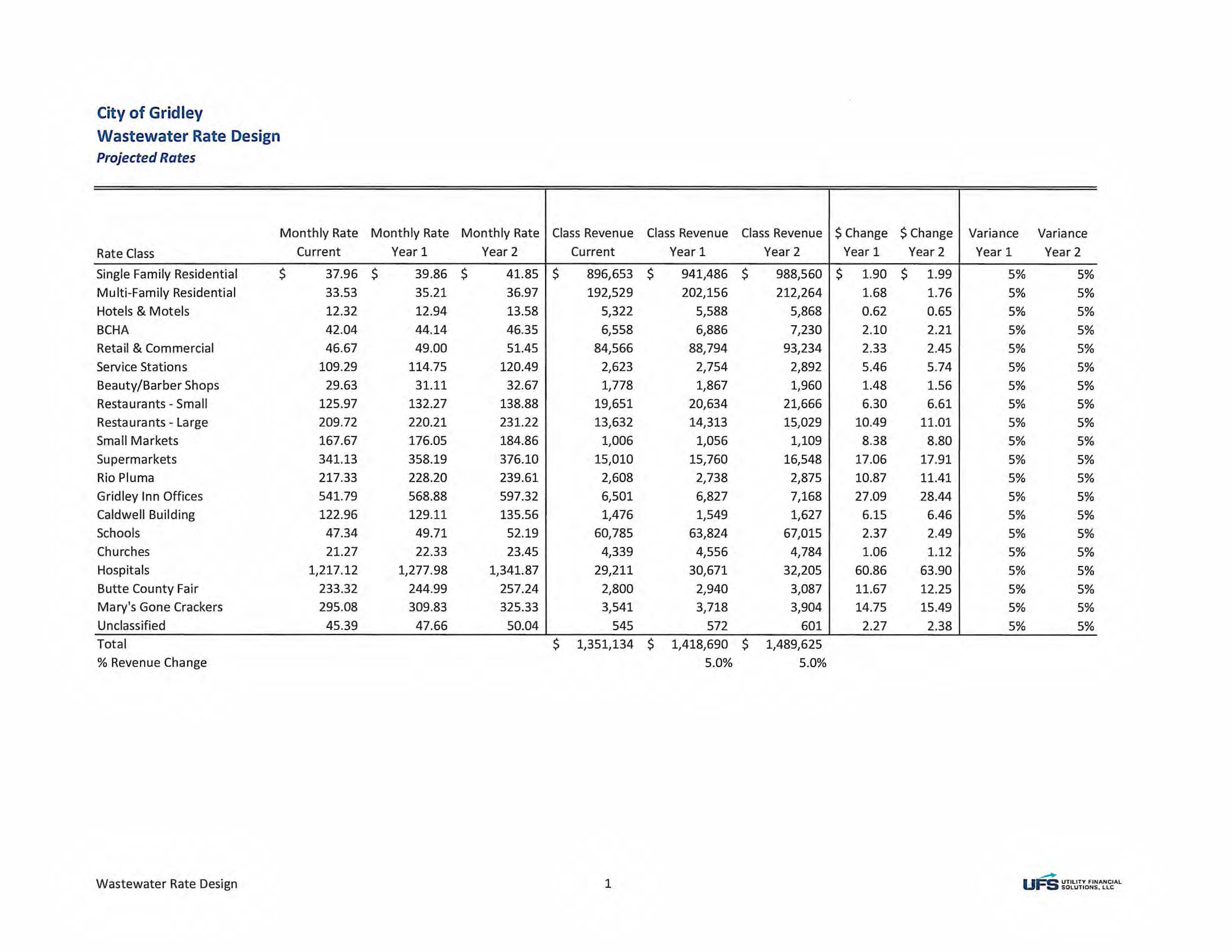 ---
Proposición 218: Aviso de Tarifas Propuestas de Agua y Alcantarillado
La Proposición 218 es una enmienda a la Constitución de California que requiere que las agencias gubernamentales y las empresas de servicios públicos notifiquen a los propietarios de los cambios propuestos a las tarifas de los servicios. Se debe enviar un aviso por escrito a los propietarios 45 días antes de una audiencia pública programada con respecto a los cambios propuestos. La ciudad de Gridley envió por correo a todos nuestros propietarios registrados un aviso de la Proposición 218 para informar que se llevará a cabo una reunión pública el 18 de Diciembre de 2023 con respecto al aumento propuesto de las tarifas de agua y alcantarillado para los años fiscales que finalizan en 2024-2025.
Nuestras tarifas reflejan el verdadero costo de operar, mantener y mejorar los sistemas de agua y alcantarillado de la ciudad de Gridley. Para continuar brindando los servicios de los que Gridley puede depender, la ciudad de Gridley propone aumentos en las tarifas de agua y alcantarillado, a partir del 1 de Enero de 2024. Las nuevas tarifas propuestas representan un aumento promedio en la factura mensual de menos de $4 al mes para el hogar residencial unifamiliar promedio en Gridley.
Aviso de Audiencia Pública Sobre Tarifas Propuestas de Agua y Alcantarillado
En la reunión del Concejo Municipal de Gridley del 18 de Diciembre de 2023, el Concejo Municipal votará los aumentos propuestos en las tarifas de agua y alcantarillado. La ciudad de Gridley agradece los comentarios de la comunidad. Se pueden hacer comentarios públicos durante esta audiencia pública cuando se discute el tema de la agenda.
Los clientes también tienen derecho a presentar una protesta por escrito contra las tarifas propuestas de agua y alcantarillado. Los aumentos de tarifas propuestos no entrarán en vigor si la ciudad de Gridley recibe protestas por escrito de la mayoría de los propietarios y clientes afectados.
Las protestas por escrito deben enviarse por correo al asistente administrativo de la ciudad de Gridley a la dirección que figura a continuación o entregarse personalmente en la audiencia pública del Concejo Municipal del 18 de diciembre de 2023 para poder ser contadas. Las protestas no podrán entregarse de forma electrónica ni verbal.
Cualquier protesta escrita debe: (1) declarar que el propietario o cliente identificado se opone al aumento de tarifas propuesto; (2) proporcionar la ubicación del paquete identificado (por número de paquete del tasador, dirección postal o cuenta del cliente); e (3) incluir el nombre y la firma de la persona que presenta la protesta. Sólo se podrá registrar una protesta por propiedad.
Los comentarios orales en la audiencia pública no calificarán como una protesta formal a menos que vayan acompañados de una protesta por escrito.
Envíe sus protestas a:
Ciudad de Gridley
A la atención de: C Santana
685 Kentucky St, Gridley, CA 95948
Según la sección 53759 del Código de Gobierno de California, existe un plazo de prescripción de 120 días para impugnar cualquier tarifa o cargo nuevo, aumentado o ampliado. Este estatuto de limitaciones se aplica a las tarifas y cargos del servicio de agua y alcantarillado propuestos en este aviso. También se aplica a cambios futuros en las tarifas y cargos de agua y alcantarillado.